Men's & Women's Handmade Casual Leather Shoes
Combine the comfort of buttery soft Deerskin Leather in moccasin style, lace-up leather casual shoes, with rubber outsoles and you have the makings of durable, yet luxuriously comfortable casual dress shoes for both men and women.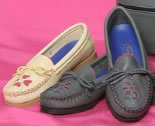 The great thing about deerskin leather casual shoes is that the deerskin is breathable, lightweight and supple enough to mold and contour to your feet. Deerskin leather casual shoes do not require a breaking in period, and deerskin is ranked third among the strongest available leathers.
For extra durability, Footskins also offers moccasin style leather casual shoes in high quality tumbled cowhide.
Lace-Up Casual Dress Shoes for Women (FS Sole)
These lace-up women's casual shoes are available in genuine deerskin or cowhide leather and are also handmade in America by Footskins using only the finest American leathers.
Our moccasin style casual flat shoes feature new contoured SorboAir® insoles, TPR rubber outsole's (FS), soft padded ankle collars and leather uppers. Another characteristic of these popular leather casual shoes is the continuous lace around the heel, which can be adjusted for comfort.
With excellent shock absorption, cushioning and support it's easy to see why these moccasin style leather casual shoes are more than just occasional footwear and remain a favorite comfort dress shoe for all day footwear.

These are similar in construction to the women's moccasin style leather casual shoes shown above. The only exception is that these women's casual shoes feature our original rubber wrap-around sole (HS) to create a more flexible moccasin feel. This casual footwear style is also available in genuine deerskin leather or tumbled cowhide.


Footwear by Footskins also offers several styles of slip-on leather casual shoes for women. Ladies slip-on casual shoes are available in both deerskin and cowhide leather and many have our shock absorbent SorboAir insoles. Choose from TPR rubber soles, flexible molded soles, or leather canoe soled casual shoes.
Men's Lace-Up Leather Casual Shoes With Crepe Sole or Rubber Soles
Our customers tell us that these are among the most comfortable men's casual shoes they have
owned. We have recently added our new SorboAir® insoles to these Comfort Shoes, improving cushioning, shock-absorption and overall foot support and creating luxurious casual cushioned shoes for men.

These moccasin style lace-up leather casual shoes for men are handmade in America and constructed in true moccasin style. They feature slip-resistant Italian crepe soles or rubber wrap-around soles. Men's casual shoes are available in double layer genuine deerskin or high quality tumbled cowhide for those who want something more durable.


For slip-on, men's moccasin casual shoes made from genuine deerskin leather, choose from our many styles: crepe sole shoes, rubber sole shoes, molded sole moccasins, or canoe sole moccasin shoes. We carry soft, flexible, lightweight men's casual shoes for all day wear.
Order Your Moccasin Style Leather Casual Shoes Now!
Footwear by Footskins Handmade Moccasin Shoes feature shoe making skills that have been handed down from one generation to the next. Along with handcrafted cowhide and deerskin leather casual shoes, we bring four decades of experience crafting Custom Made Moccasin Shoes, Boots & Slippers including:
Men's Moccasin Casual Shoes
Men's Moccasin Boots
Men's Moccasin Slippers
Women's Moccasin Casual Shoes
Women's Moccasin Boots
Women's Moccasin Slippers
Handamde Knee High Boots for Men & Women
Children's Moccasins
Children's Moccasin Slippers
For more information about our moccasin style leather casual shoes including lace-up and slip-on men's casual shoes and women's casual shoes, please Contact Footwear by Footskins, or call us at 507-498-3707 weekdays, 8:00 5:00, CST. Visit our FAQ page or click on our categories on the left to learn more.
"Your shoes are wonderful. It is so nice putting on a pair that fits
and does not need a breaking in period. I am so glad I found your site."
H. H. from Alaska
Other Moccasin Testimonials
Ask About Our Handmade Leather Casual Shoes
Moccasin Boots & Moccasin Shoes