Handcrafted Men's Moccasin - Boots, Slippers & Casual Shoes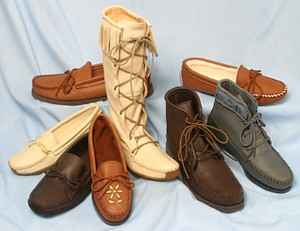 Footwear by Footskins is internationally known for made-in-America Handmade Leather Moccasins for men and women, handcrafted from genuine Deerskin Leather or Cowhide.
Deerskin is tremendously versatile; a soft and supple leather ideal for moccasin construction and providing outstanding moccasin comfort.
Our selection of men's moccasins includes Men's Casual Shoes, Men's Comfort Shoes, Men's Chukka Boots, Men's Knee High Boots and Men's Moccasin Slippers.
Men's Moccasins
Handmade men's moccasins made from genuine deerskin never need to be broken in and easily mold and contour to the man's feet. The soft buttery deerskin leather is flexible, lightweight and breathable, yet rugged enough for men's moccasins since deerskin ranks third among the strongest leathers available.
Guaranteed Handcrafted Moccasin Construction
We've been making custom handcrafted men's moccasins, plus Leather Moccasins for Women and Handmade Moccasins for Children for over four decades.
Thanks to the moccasin construction skills handed down from one generation to the next our workmanship is 100% guaranteed. The Internet has also allowed us to make our men's moccasins and moccasins for women and children available to customers throughout the North America!
For handmade men's moccasins, Footwear by Footskins uses White Tail deer hides harvested from the great northern woods. The deer hides are especially vat-dyed so that the color will last and not run off with perspiration or wetness.
Our skillfully crafted, handmade deerskin leather moccasins for men are American made and handcrafted for outstanding comfort, quality, workmanship and always an excellent fit.
Ask us about made-to-measure Custom Made Men's Moccasins.
Men's Moccasin Comfort Shoes, Boots & Slippers
Talk to us about our great selection of moccasin style men's footwear including;
Moccasin Casual Shoes
Men's Moccasin Comfort Shoes
Men's Moccasin Slippers
Men's Ankle High Chukka Walking Boots
Men's Knee High Moccasin Boots
Order Men's Moccasins Now!
For more information about men's moccasins including our American handmade, Made-To-Measure Custom Moccasins or to inquire about deerskin leather moccasins for men including men's moccasin boots, comfort shoes and men's slippers please Contact Your Handmade Leather Moccasins Representative or call us at 507-498-3707 weekdays, 8:00 – 5:00, CST.