Handmade Deerskin Leather Moccasins
Moccasin Boots, Moccasin Shoes & Moccasin Slippers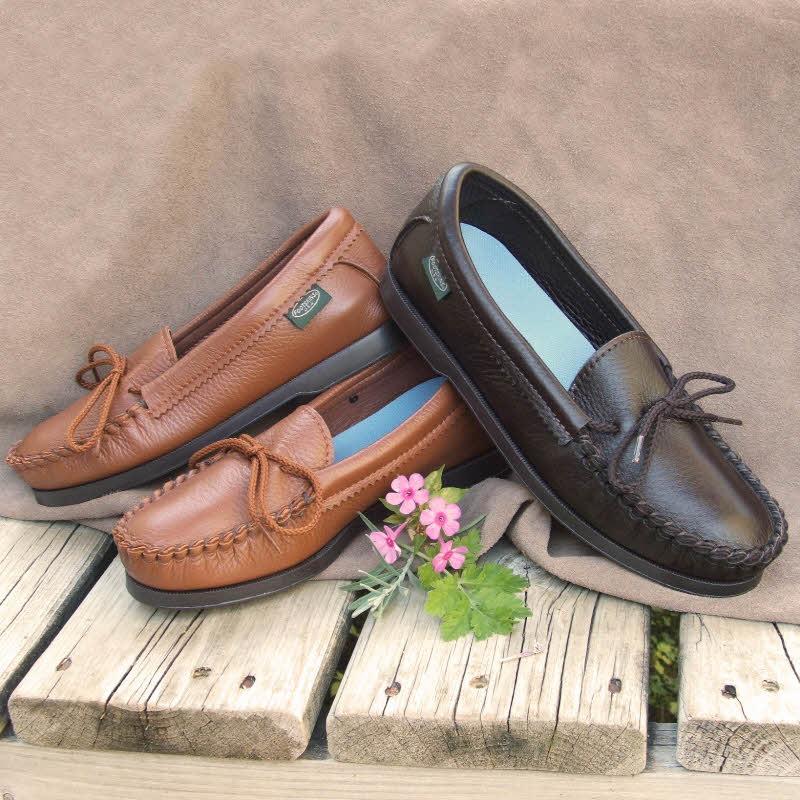 and handmade from genuine Deerskin Leather (also available in tanned, tumbled cowhide). These are the things that make our custom American made moccasins so uniquely different from other types of shoes.
Buttery soft deerskin is unsurpassed for flexible, breathable, lightweight comfort and is ideal for creating luxurious Moccasin Boots, Moccasin Shoes and Moccasin Slippers for men and women plus Children's Moccasin Slippers and shoes (including toddlers and baby booties).
These moccasin boots and moccasin shoes are handmade in true moccasin construction. The deerskin leather goes all the way around your foot. Our craftsmen do not remove all of the stretch from the deerskin, so the moccasins' leather is free to mold and contour to your feet. The resulting flexibility provides unrivaled comfort that in no way restricts your foot's movement.
American Made Moccasins – Moccasin Boots & Moccasin Shoes
Sizing Moccasins
It is important that your new moccasins fit well in order for them to properly conform to the shape of your feet. As deerskin accommodates sizes more easily, we stock whole sizes in a medium width only. We recommend you buy your normal shoe size. If you wear a half size, it is usually better to go down a half size since our moccasin boots and moccasin shoes run slightly large. If your feet are wide, you may want to go up a size. A functional lace on our slip-on moccasins also helps to adjust for fit.
Custom Made Men's Moccasins, Women's Moccasins & Children's Moccasin Slippers
Some people have hard-to-fit or problem feet and require Custom Made moccasins. Footwear by Footskins can custom make moccasin shoes, moccasin boots, chukka boots, children's moccasin slippers and moccasin slippers for all ages, in the style or color of your choice. Our handmade moccasins are made to order and tailored to fit each foot properly.
It is not uncommon for deerskin moccasins to be worn barefoot, which in itself is testimony to their comfort. The kind of freedom and comfort that American handmade moccasins provide is similar to what many people experience with indoor footwear. There really is no other feeling like it.
For more information about our American handmade and custom made moccasins including moccasin boots and moccasin shoes for men and women plus children's moccasin slippers and baby booties, please Contact Footwear by Footskins.
View Women's Moccasins – Soft Sole
View Men's Moccasins – Soft Sole