Men's & Women's Handmade Moccasin Chukka Boots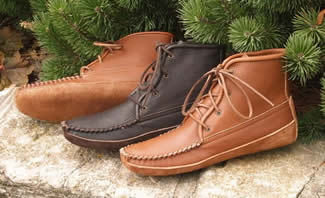 Footwear by Footskins handmade chukka boots are lace-up, ankle high moccasin boots designed for walking.
Our select men's chukka boots and women's chukka boots feature three or four eyelets and are handcrafted from durable cowhide or genuine deerskin leather.
All our Custom Moccasin Boots are handmade in America from the finest genuine American leathers so quality and comfort are assured.
Handmade Deerskin Chukka Boots
All Handmade Deerskin Moccasin Boots including our deerskin chukka boots for men and women feature two layers of buttery soft, breathable Deerskin Leather. This is a unique design that helps keep your feet cool in the summer and warm in the winter.
Easy care Deerskin Moccasin Boots are made of soft, flexible leather that conforms and molds to the contours of your feet creating a more natural walking boot. Deerskin chukka walking boots are very forgiving on the sensitive areas of your feet, moving with you and giving when your feet need it to give. We also carry Deerskin Moccasin Shoes and Deerskin Knee High Boots.
Handmade Cowhide Chukka Boots

Our men's and ladies handmade cowhide chukka boots are American made moccasin boots handcrafted from high quality, specially tanned and tumbled genuine Texas steer hide.
Footskins' cowhide chukka boots retain the softness, flexibility and comfort that our customers have come to expect from our unique line of handmade moccasin boots and moccasin shoes. Cowhide Leather is somewhat thicker and stronger than deerskin so handmade cowhide chukka walking boots have great durability without sacrificing comfort.
Men's Chukka Boots
Men's Ankle High Moccasin Walking Boots
Available in soft, supple deerskin leather or the more durable cowhide, men's chukka boots are available in canoe sole or crepe sole. Footskins' ankle high walking boots for men are handmade moccasin boots, hand crafted with great attention to detail in true moccasin style. The crepe sole moccasin boots feature SorboAir insoles for excellent shock absorption and comfort.
Women's Ankle High Moccasin Walking Boots
Our women's light weight ankle high chukka boots are moccasin boots with rubber soles or canoe soles. Not unlike the

men's ankle high moccasin boots, these chukka boots are also made in America using genuine deerskin or cowhide leather. Women's chukka boots, which also include our Princess Boots, feature true moccasin construction with handmade, wrap-around-your-foot design for unsurpassed comfort.
Other Moccasin Boots & Designs
Knee High Boots for Women & Men

Along with chukka boots and ankle high moccasin boots, Footwear by Footskins also makes handcrafted knee high moccasin boots for both men and women; made from genuine deerskin or cowhide leather in true moccasin construction.
Knee high moccasin boots are handmade with a generous calf size and feature gusseted tongues and fully laced fronts. We use four layers of leather in the sole and for added comfort, a soft cushion insole between the layers.
Order Men's or Ladies Chukka Boots Now!
For more information about chukka boots, ankle high moccasin boots and walking boots for men and women, available in genuine soft deerskin leather or tumbled cowhide, please Contact Footwear by Footskins, call us at 507-498-3707 weekdays, 8:00 – 5:00, CST or visit our FAQ page. You can also click on our categories to the left to view more handmade moccasin boots and moccasin shoes.
"I received my pair of moccasin boots this week, and I put them on immediately.
I almost didn't want to take them off to go to bed, they are that comfortable.
I have found so many boots to be over made, so that the foot never moves,
all the walking is done with the legs;
one loses some of the sense of the land with footwear like that.
I know my new moccasin boots will not just give me comfort and security, but will allow me
the freedom of movement which is important to me. I can certainly recommend Footwear by Footskins,
and will do so to my friends and anyone else that asks about them
(which I am sure there will be some, they are very attractive, as well).
While I don't think I will need another pair anytime soon,
when I do need another pair of moccasin boots, it will be these.
Many thanks for all the assistance, and especially for making such a wonderful gift to the feet!
L.A. from California
Read More Testimonials

Ask About Made-to-Measure Custom Chukka Boots
And Handmade Moccasin Boots